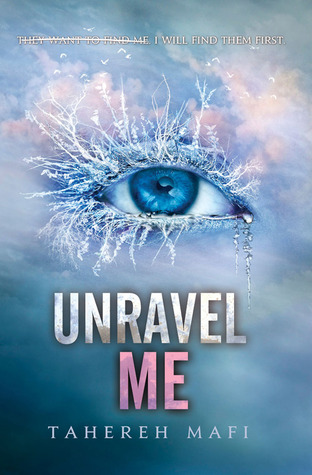 Unravel Me is written by Tahereh Mafi and narrated by Kate Simses and is the second book of the Shatter Me series.
tick
tick
tick
tick
tick
it's almost
time for war.
Juliette has escaped to Omega Point. It is a place for people like her—people with gifts—and it is also the headquarters of the rebel resistance.
She's finally free from The Reestablishment, free from their plan to use her as a weapon, and free to love Adam. But Juliette will never be free from her lethal touch.
Or from Warner, who wants Juliette more than she ever thought possible.
In this exhilarating sequel to Shatter Me, Juliette has to make life-changing decisions between what she wants and what she thinks is right. Decisions that might involve choosing between her heart—and Adam's life.
The Breakdown:
1. I really enjoy the world that Mafi has created in this series. She has some excellent world building in this book with both the Reestablishment and the Omega Point. I do love a good dystopian world and quite what Mafi does in this book with that genre.
2. I have to say that I found Juliette and Adam to be the most annoying characters in this book. They were so terribly angsty that I could hardly handle it. There were multiple times that I just wanted to slap them, especially Juliette and say pull yourself together. The other characters were much more interesting. And I definitely enjoyed Juliette's interactions with Kenji way more than anything with Adam.
3. Speaking of Kenji, I adore him. He is hilarious, and can be pretty smart. I love when he tells Juliette to man up and then he does things to pull her out of her shell. I just want a whole book devoted to him honestly.
4. There are some interesting revelations in this book. One of which makes the love triangle between Juliette, Adam, and Warner a little strange. I am interested to see how it plays out, and hope that the ending means that Juliette will be less annoying in the next book.
To Read or Not to Read:
Read