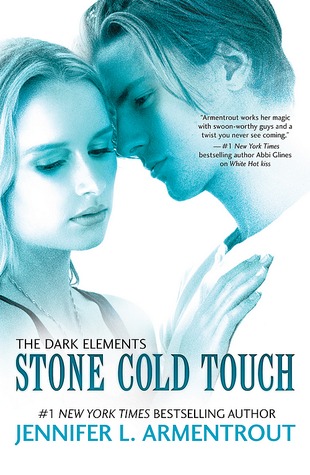 Stone Cold Touch by Jennifer L. Armentrout is the second book of The Dark Elements series.
Layla Shaw is trying to pick up the pieces of her shattered life- no easy task for a seventeen-year-old who's pretty sure things can't get worse. Her impossibly gorgeous best friend, Zayne, is forever off-limits thanks to the mysterious powers of her soul-stealing kiss. The Warden clan that has always protected her is suddenly keeping dangerous secrets. And she can barely think about Roth, the wickedly hot demon prince who understood her in ways no one else could.
But sometimes rock bottom is only the beginning. Because suddenly Layla's powers begin to evolve, and she's offered a tantalizing taste of what has always been forbidden. Then, when she least expects it, Roth returns, bringing news that could change her world forever. She's finally getting what she always wanted, but with hell literally breaking loose and the body count adding up, the price may be higher than Layla is willing to pay...
The Breakdown:
1. I am pretty sure JLA can do no wrong when it comes to writing, and this book is no exception. I love this world she has created that has a black and white of good and evil, but the heroine is clearly in the grey area somewhere in between. I love that JLA shows in this book that what is viewed as good does not make them good people, and what is seen as evil has more too them than expected.
2. I really love the character of Layla, partly because she has the most awesome name in the world. She is very real feeling, despite her very unique heritage. She as insecurities and crushes just like any normal girl. Well, okay, maybe not exactly like a normal girl. Oh, and when needed, she can kick some major ass.
3. Not going to lie, I am having trouble picking a favorite between Zayne and Roth. On the one hand, there is Zayne, who has always been there for her, always protected her. Who despite the other Wardens' feelings, has never doubt that Layla is a good person. Then there is Roth, Prince of Hell, you don't get more bad boy than that, but he, too, has faith in Layla. Despite him pushing her away in the book, there is definitely some hot chemistry between them. Plus what he tells her at the end of the book is heart-stopping romantic.
4. Speaking of endings, this book has quite a few surprises thrown in at the end. I am still reeling from some of them, and so many questions about what is going to happen next. How will everything that happened effect the Wardens and Layla's relationship with both Roth and Zayne? I already can't wait for the next book. Oh, and bonus in by copy was the extra scene from Zayne's POV, which was fantastic.
To Read or Not to Read:
Must Read