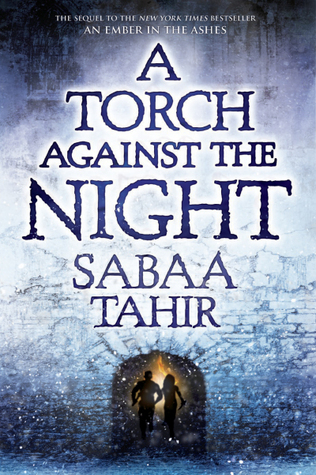 Sabaa Tahir's A Torch Against the Night is the second book of An Ember in the Ashes series.
Elias and Laia are running for their lives. After the events of the Fourth Trial, Martial soldiers hunt the two fugitives as they flee the city of Serra and undertake a perilous journey through the heart of the Empire.
Laia is determined to break into Kauf—the Empire's most secure and dangerous prison—to save her brother, who is the key to the Scholars' survival. And Elias is determined to help Laia succeed, even if it means giving up his last chance at freedom.
But dark forces, human and otherworldly, work against Laia and Elias. The pair must fight every step of the way to outsmart their enemies: the bloodthirsty Emperor Marcus, the merciless Commandant, the sadistic Warden of Kauf, and, most heartbreaking of all, Helene—Elias's former friend and the Empire's newest Blood Shrike.
Bound to Marcus's will, Helene faces a torturous mission of her own—one that might destroy her: find the traitor Elias Veturius and the Scholar slave who helped him escape…and kill them both.
The Breakdown:
1. I thought that I loved
An Ember in the Ashes,
but this book really stole my heart. Tahir's sophomore book is even more amazing than her debut. This book is filled with surprising twist and amazing characters. I could hardly put it down.
2. Tahir does the split characters chapters so well. Laia, Elias, and Helene all have a unique voice that I never feel like that it is hard to tell their chapters apart. I especially liked the addition of Helene's perspective in this book. With her new position as Marcus's Blood Shrike and her being torn between duty to the Empire and her love both of Elias and her family.
3. Tahir introduces some wonderful new characters in this book. The Soul Catcher is fascinating to me. A being that guides the dead to their eternity, and her interesting relationship with Elias as the book progresses. So I thought I would hate Harper when he is first introduced, but as the book progresses, I find myself liking him more and more. That Mask is an interesting puzzle, and the things that he reveals at the end, not going to lie, blew my mind a little.
4. Oh, and the Commandant is just a character I love to hate. Just when you think she can't be any worse, she goes and does something truly horrible. I really hoping she gets her due soon. Then there is Cook. She is knows so much, there is got to be some secret to her that I am dying to know.
4. Have a tissue nearby for this book. Tahir gets me right in the feels several times. The things revealed in the last third of the book has me pining for the next book already.
To Read or Not to Read:
Must Read