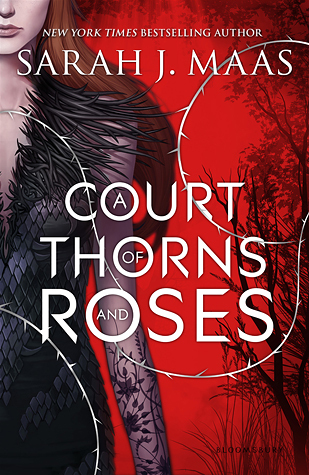 A Court of Thorns and Roses by Sarah J. Maas is the first book of the series of the same name.
When nineteen-year-old huntress Feyre kills a wolf in the woods, a beast-like creature arrives to demand retribution for it. Dragged to a treacherous magical land she only knows about from legends, Feyre discovers that her captor is not an animal, but Tamlin- one of the lethal, immortal faeries who once ruled their world.
As she dwells on his estate, her feelings for Tamlin transform from icy hostility into a fiery passion that burns through every lie and warning she's been told about the beautiful, dangerous world of the Fae. But an ancient, wicked shadow grows over the faerie lands, and Feyre must find a way to stop it... or doom Tamlin- and his world- forever.
The Breakdown:
1. Maas does an amazing job in her new spin on the tale of Beauty and the Beast with this story. She weaves magical story with wonderful characters that had me engaged from page one. I love that she kept me guessing on what many of the characters motives for their actions were through out the story. With the deals made and things discovered in this book, I am excited to see where Maas will take the series.
2. I just love that Maas writes strong female leads. Feyre is more than capable of taking care of herself, even against the immortal fae. She faces impossible odds to save the one she loves, and does not flinch despite an almost guaranteed death sentence.
3. I loved the way that Tamlin cared for his people. It is was obvious that he was not the cold hearted Fae of legends. He faces the wrath of terrible evil to care for those around him. I really enjoyed he awkwardness around Feyre at the beginning, as if he was unsure how to handle himself around a female. As he comes to care for her, he things he does to protect her, even if it means his curse continues on, was truly sweet.
4. Maas not only does wonderful main characters, but her supporting characters are just as good. I loved Lucien's wit and sharp tongue. He made me laugh on numerous occasions, and his and Tamiln's friendship is what everyone wants in their friends. Then there is Rhysand. I cannot decide if I love or hate him yet. He definitely throws an interesting wrench into the mix, and I am excited to see where his character goes because I not quite sure where his loyalties lay. Then there is Her, a character I truly love to hate. She is cruel and powerful, and I could not help the little shiver she gave me in all her scenes.
To Read or Not to Read:
Must Read