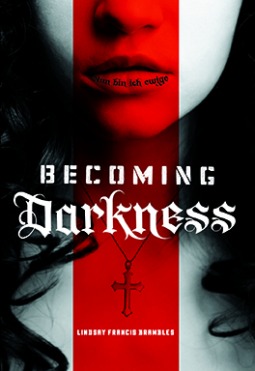 Becoming Darkness is by debut author Lindsey Francis Brambles.
Like everyone else living in Haven, seventeen-year-old Sophie Harkness is an Immune-- a carrier of the genetic mutation that protects her from the virus Hitler unleashed upon the world more than half a century ago. A virus that wiped out most of humanity and turned two-hundred million people into vamps. But after her best friend is brutally murdered and several attempts are made on her own life, Sophie becomes determined to find answers to what seems to be a conspiracy running generations deep. And when she questions the peace treaty that keeps her small community protected, Sophie begins to discover terrible truths about herself and what it means to be human in a world ruled by darkness.
The Breakdown:
1. Brambles has an interesting mash up of genres in this book. A little paranormal, a little dystopian, and alternate history tied together with a suspense/thriller bow. On the surface, it seems like a lot to swallow, and I have to admit, I was unsure how he would pull it all together. But surprisingly, it worked out well. This book has a lot of twist and turns, and kept me guessing on what was going on and how it affected Sophie.
2. Sophie is an interesting character. At first Sophie seems like your average girl, but as the story progress, Brambles lets on there is more to her than a normal human. She is surrounded by secrets, some of which are life threatening to her. She is very headstrong, and that gets her into trouble a few times.
3. Brambles does some interesting world building with both Haven and Third Reich New York. The scenes he sets with them gives the stark contrast between the Immune world and the world of the vamps. Haven being on a tropical island, sunny and warm. The descriptions have me imagining a place washed in bright colors and warmth. The Third Reich New York on the other hand is city that seems to be crumbling and dark. The colors there have me seeing grey and blacks.
4. Sadly the ending left me with more questions than answers. There are a lot of issues and secrets left unanswered at the end. It left me feeling a little empty. I do hope there is another book in the works to resolve everything.
To Read or Not to read:
Read