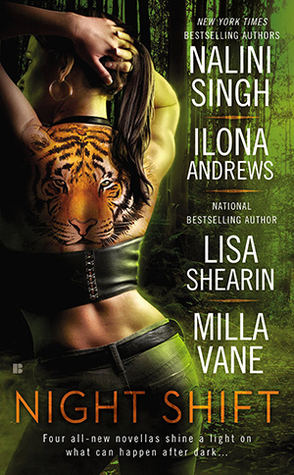 Night Shift is a series of short stories by Nalini Singh, Ilona Andrews, Lisa Shearin and Milla Vane.
Secrets at Midnight
by Nalini Singh
As the scent of Bastien Smith's elusive lover ignites a possessiveness in him that's as feral as it is ecstatic. And now that he's found his mate, he'll do anything to keep her.
Magic Steals
by Ilona Andrews
When people start going missing, shapeshifting tigress Dali Harimau and jaguar shifter Jim Shrapshire must uncover the truth about the mysterious creatures responsible.
The Beast of Blackmoor
by Milla Vane
A warrior princess must tame The Beast of Blackmoor to earn a place among her people. But she quickly discovers that the beast isn't a monster, but a barbarian warrior who intends to do some taming himself.
Lucky Charms
By Lisa Shearin
It's seer Makeena Frazier first day on the job at Supernatural Protection and Investigations, and her first assignment is more than she bargained for when bodyguard duty for a leprechaun prince's bachelor party goes every which way but right.
The Breakdown:
1. So I will give a review for each story. First up, Secrets at Midnight, which is a novella in Singh's Psy-Changling universe. This was one of the reason I picked up this book. Bastien is the brother of Mercy, from
Branded by Fire
, and he has found his mate, who has quite the interesting scent. It was a quick read, but fit nicely into the universe. I liked both Batien and Kirby. Both were fun and passionate, and there was good chemistry between the pages. I think my favorite part was when Kirby and Mercy meet for the first time. I could just tell they were going to get along great. Worth the read for this series.
2. Andrews' Magic Steals is from the Kate Daniels' universe and is the second novella about Dali and Jim, and is the other reason I picked up this book. This one takes place during the events of
Magic Rises.
I really love the character of Dali, she is quirky and kind, and so loyal to her community and heritage. It is amazing to see how well she and Jim work together, and I hope that they get more stories, and maybe even a full length novel like Andrea and Raphael got.
3. Vane's story was one the one I liked the least of the collection. Its setting alone made not fit in well with the other stories. Her characters were not very likable to me. Mala being very full of her abilities and appearing to have no insecurities to relate to. Kavik being a battle roughen warrior, who has faith in nothing, and hurts the thing he loves the most in order not to be tamed.
4. I very much enjoyed Shearin's contribution to the collection. Makeena, Mac, was fun and awkward at times. Ian was street smart ex-NYPD partner, who definitely had serious moments of hotness. Plus, I love the Russian werewolf, Yasha, sense of humor. I am putting the rest of this series on my to read list.
To Read or Not Read:
If you are a fan of Signh, Andrews, or Shearin, definitely read their stories.