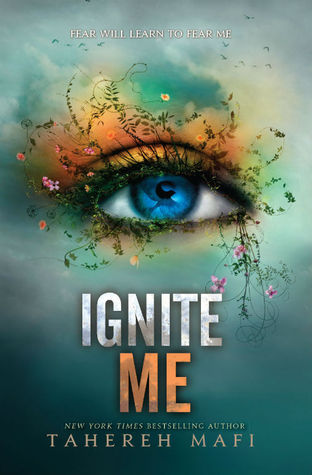 Ignite Me is written by Tahereh Mafi and narrated by Kate Simses and is the third book of the Shatter Me Series.
With Omega Point destroyed, Juliette doesn't know if the rebels, her friends, or even Adam are alive. But that won't keep her from trying to take down The Reestablishment once and for all. Now she must rely on Warner, the handsome commander of Sector 45. The one person she never thought she could trust. The same person who saved her life. He promises to help Juliette master her powers and save their dying world . . . but that's not all he wants with her.
The Breakdown:
1. I just want to start by saying this was by far my favorite book of the series. I enjoyed the story so much, and thought the character development in this book was wonderful. Plus Juliette-Warner is way more awesome that Juliette-Adam.
2. Mafi has a big win with Juliette's character development in this book. She is way less ansty and less crying in this book compared to the second book. She really starts to embrace her powers and is motivated to change her world in this book.
3. I just want to take minute to talk about how much more I love Juliette-Warner coupling than her with Adam. She and Warner are more of equals in the relationship. He sees that she has so much potential and power, and wants to make her better. Where as Adam saw her as something fragile that needed protecting.
4. Speaking of Adam, he turned into a real tool in this book. He was constantly rude and mean to Juliette when she told him she wanted to fight and had allied with Warner. At one point he says that he would rather he dead than with Warner. You would think that someone who claimed to love you would want you happy which he obviously does not care about that for Juliette.
5. I thought the ending was perfect for this book. It is just want I expected from this story. Mafi recently announced another book in this series. I am concerned where she will go with it after that ending.
To Read or Not to Read:
Read