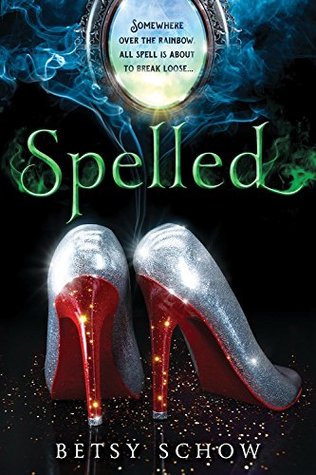 Spelled is by debut author Betsy Schow.
Fairy Tale Survival Rule #2: If you find yourself at the mercy of a wicked witch, sing a romantic ballad and wait for your Prince Charming to save the day.
Yeah, no thanks. Dorthea is completely princes out. Sure being the crown princess of Emerald has its perks- like Glenda Original ball gowns and Hans Christian Loutboutin heels. But a forced marriage to the brooding prince Kato is so not what Dorthea had in mind for her enchanted future.
Talk about unhappily every after.
Trying to fix her prince problem by wishing on a (cursed) star royally backfires, leaving the kingdom in chaos and her parents stuck in some place called "Kansas." Not it's up to Dorthea and her pixed off prince to find the mysterious Wizard of Oz and undo the curse... before it releases the wickedest witch of all and spells The End for the world of Story.
The Breakdown:
1. Schow uses elements of many fairytales, and pulls heavily from the
Wizard of Oz
, to create Spelled. The story has quite the magical adventure. To keep it interesting, Schow does not always make it clear who are friends and who are foes. I love that the cover and shoes that Dorthea wears pay respect both to the book and movie
Wizard of Oz,
because int the book they are silver and the movie, of course, they are the iconic ruby slippers.
2. I have to admit as was not a fan of Dorthea at first. She is epitome of a spoiled princess who does not realize how good she has it. Even after her wish curses all of Story, she does accept any responsibility for her actions. But she does start to question her role in the story, even wondering if she is not the heroine but rather the villain. She does prove to have courage and a kind heart in the end.
3. I would not say that Kato is your typical prince. He is not looking to save Dorthea, but rather thinks she has a purpose to serve. He and Dorthea understandable, dislike each other quiet a bit at first. I like that they are not love at first site couple. It takes them getting to know each other for them to develop feelings for each other.
4. Schow adds quiet the cast of supporting characters. From Rexi the kleptomaniac kitchen girl that becomes Dorthea and Kato's companion on the adventure to the Wizard of Is, who is in love with Dorthea and is more than he seems. The different characters definitely keep the story interesting. And of course, there is Griz, the wicked witch, that gives Dorthea the cursed star.
5. The story has a pretty great adventure, some pretty funny parts, and quite the ending. Schow has definitely left a big hint that this book will be a series.
To Read or Not to Read:
Read