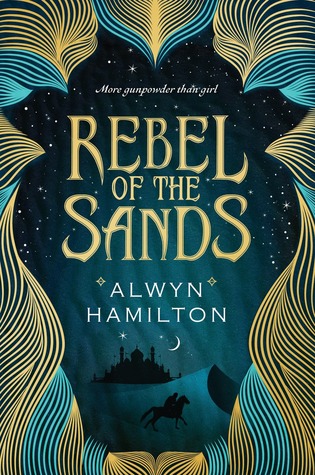 Rebel of the Sands is by debut author Alwyn Hamilton and is the beginning of the series of the same name.
She's more gunpowder than girl- and the fate of the desert lies in her hands.
Mortals rule the desert nation of Miraji, but mystical beasts still roam the wild barren wastes, and rumor has it that somewhere, djinni still practice their magic. But there's nothing mystical or magical about Dustwalk, the dead-end town that Amani can't wait to escape from.
Destined to wind up "wed or dead," Amani's counting on her sharpshooting skills to get her out of Dustwalk. When she meets Jin, a mysterious and devastatingly handsome foreigner, in a shooting contest, she figures he's the perfect escape route. But in all her years spent dreaming of leaving home, she never imagined she'd gallop away on a mythical horse, fleeing the murderous Sultan's army, with a fugitive who's wanted for treason. And she's never have predicted she's fall in love with him... or that he's help her unlock the powerful truth of who she really is.
The Breakdown:
1. I am just going go ahead and say this book was amazing! I could hardly put it down. It is a wonderful adventure set in fantastic land. The desert setting, magical creatures, great characters, and a thrilling story, it all comes together so beautifully in this book. I cannot wait to see where Hamilton will take this series.
2. I loved Amani. She is brave and impulsive, and just a fun character to read. She finds amazing ways to get herself into trouble, but just as creative ways to get out it. Despite her upbringing, she is determined that there is a better life than what is Dustwalk, and I love the courage she has to try and find it. Plus there is amazingly more to her than she even realizes.
3. Jin is quite the enigma of a character. From the start, there is obviously more to him than he is telling Amani. I love those little unguarded moments when he lets more slip out than he intends to tell her. I love the way he is torn between wanting to keep her close and sending her way for her own protection.
4. I have to admit that with in the last year, I have become fascinated by djinn stories, and I enjoyed what Hamilton has done with their story. The djinni are a god-like immortal creature with immense power, but also become fascinated by the mortals. I like how she weaves their story into this story, and how it plays a part in the Miraji religion, and the Rebel Prince's goals.
To Read or Not to Read:
Must Read