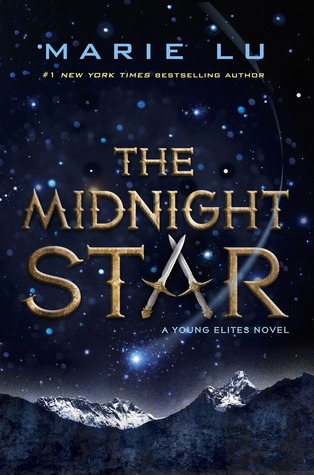 .The Midnight Star is written by Marie Lu and narrated by Lannon Killea and Carla Corvo and is the final book of the Young Elites series.
There was once a time when darkness shrouded the world, and the darkness had a queen.

Adelina Amouteru is done suffering. She's turned her back on those who have betrayed her and achieved the ultimate revenge: victory. Her reign as the White Wolf has been a triumphant one, but with each conquest her cruelty only grows. The darkness within her has begun to spiral out of control, threatening to destroy all she's gained.

When a new danger appears, Adelina's forced to revisit old wounds, putting not only herself at risk, but every Elite. In order to preserve her empire, Adelina and her Roses must join the Daggers on a perilous quest—though this uneasy alliance may prove to be the real danger.
The Breakdown:
1. This book opens about a year after the previous book ended. Raffaele's predictions of what is happening to the Elites power is becoming more and more apparent in this book. It is a little frightening what is happening to them and the world as the rift between the mortal realm and gods realm is opening.
2. I just want to take a minute to talk about how horrible a queen Adelina is. She lets her resentment and rage rule her actions. Instead promoting tolerance between the marked and unmarked, she instead begins punishing those who are not marked, fostering more resentment between the marked and unmarked. She is always losing control of her illusions more and more. I will say she does redeem herself at the end in a big way.
3. I felt that the ending of this book was perfect for the series. With Elites that have been enemies banding together to save the world.
To Read or Not to Read:
Read