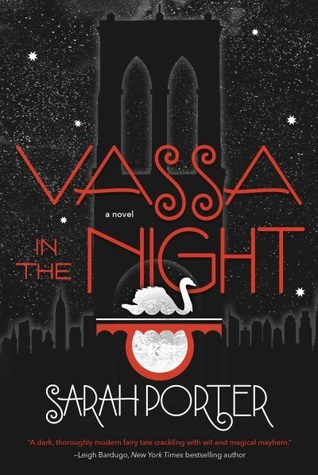 Vassa in the Night is by Sarah Porter
In the enchanted kingdom of Brooklyn, the fashionable people put on cute shoes, go to parties in warehouses, drink on rooftops at sunset, and tell themselves they've arrived. A whole lot of Brooklyn is like that now—but not Vassa's working-class neighborhood.
In Vassa's neighborhood, where she lives with her stepmother and bickering stepsisters, one might stumble onto magic, but stumbling away again could become an issue. Babs Yagg, the owner of the local convenience store, has a policy of beheading shoplifters—and sometimes innocent shoppers as well. So when Vassa's stepsister sends her out for light bulbs in the middle of night, she knows it could easily become a suicide mission.
But Vassa has a bit of luck hidden in her pocket, a gift from her dead mother. Erg is a tough-talking wooden doll with sticky fingers, a bottomless stomach, and a ferocious cunning. With Erg's help, Vassa just might be able to break the witch's curse and free her Brooklyn neighborhood. But Babs won't be playing fair…
The Breakdown:
1. Porter book is a take on Russian folklore Vasilisa the Beautiful, and you know how I love re-imagined fairy tales. I felt that Porter did a good job staying true the original story while making it her own.
2. I have a bit of trouble liking Vassa. She would honestly be very boring if it was not for her live wooden doll Erg. It was really hard to get a good grasp on her personality. She kind of stumbles through the things that Babs task her with doing with no clue about what is going on around her.
3. For me, it was the rest of the characters in the book that make the story. Erg, who always seems to know what is exactly going on. She is a sassy, kleptomaniac doll who I really enjoyed. Babs who you just know is more than a shop owner from the beginning. Her assistants, Sinister and Dexter, who happened to be disembodied hands. To Night, trapped in a humanoid body.
4. I did enjoy the world building in this. The BY dancing on the traditional Baba Yaga's chicken legged house. The hidden rooms in the store and the magic in the store, all made the story good, despite Vassa being rather boring.
To Read or Not to Read:
Read