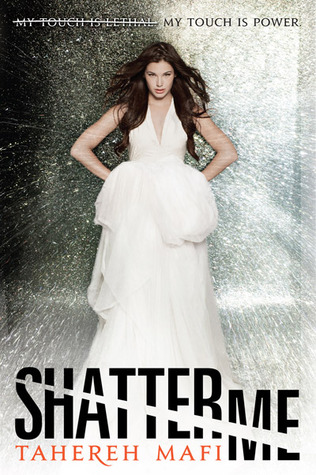 Shatter Me is written by Tahereh Mafi and narrated by Kate Simses and is the first book of the series of the same name.
I have a curse
I have a gift
I am a monster
I'm more than human
My touch is lethal
My touch is power
I am their weapon
I will fight back
Juliette hasn't touched anyone in exactly 264 days.
The last time she did, it was an accident, but The Reestablishment locked her up for murder. No one knows why Juliette's touch is fatal. As long as she doesn't hurt anyone else, no one really cares. The world is too busy crumbling to pieces to pay attention to a 17-year-old girl. Diseases are destroying the population, food is hard to find, birds don't fly anymore, and the clouds are the wrong color.
The Reestablishment said their way was the only way to fix things, so they threw Juliette in a cell. Now so many people are dead that the survivors are whispering war – and The Reestablishment has changed its mind. Maybe Juliette is more than a tortured soul stuffed into a poisonous body. Maybe she's exactly what they need right now.
Juliette has to make a choice: Be a weapon. Or be a warrior.
The Breakdown:
1. I picked this book because a friend was going on about how much she loved this series. I can say I was not disappointed with the story. The story did have a slow start to it, but once it got going I easily lost myself in it. I was not crazy about the narrator, Kate Simses, her voice was a little too child-like on the parts that were Juliette.
2. Juliette is a most interesting character. A character with the power to kill with her touch, but has a very kind heart. She tries so hard not to harm anyone with her touch, and really she just wants to be loved and accepted and not seen as a monster. I have so many questions about her powers and why she has them. I cannot wait to see where Mafi takes her character.
3. Adam and Warner present an interesting dichotomy of characters. Adam, who she knew as a child, who wants to protect her from the world. Warner, who is obsessed with her, wants to use her to help him. I am interested to see how things with play out with them and how their relationships evolve.
4. I really enjoyed the supporting characters of Kenji and James. Kenji was definitely funny, and has a few secrets of his own, and I am dying to see more of him in the future. James is wonderful in his child innocence and his love for this brother.
5. I have so many questions still at the end of this book. I am interested to see where Mafi is going to take this series and the characters.
To Read or Not to Read:
Read