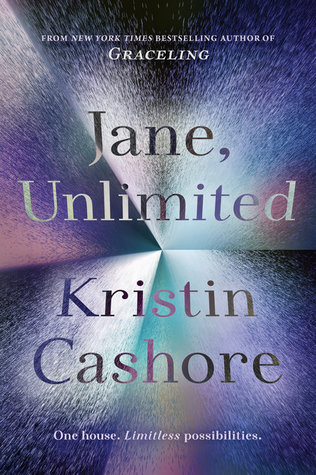 Jane, Unlimited is by Kristin Cashore.
If you could change your story, would you?
Jane has lived a mostly ordinary life, raised by her recently deceased aunt Magnolia, whom she counted on to turn life into an adventure. Without Aunt Magnolia, Jane is directionless. Then an old acquaintance, the glamorous and capricious Kiran Thrash, blows back into Jane's life and invites her to a gala at the Thrashes' extravagant island mansion called Tu Reviens. Jane remembers her aunt telling her: "If anyone ever invites you to Tu Reviens, promise me that you'll go."
What Jane doesn't know is that at Tu Reviens her story will change; the house will offer her five choices that could ultimately determine the course of her untethered life. But every choice comes with a price. She might fall in love, she might lose her life, she might come face-to-face with herself. At Tu Reviens, anything is possible.
The Breakdown:
1. If like me, you are a Cashore fan from the Graceling series, be warned this book is absolutely nothing like it. It is a very different style of story, and story telling. In some ways is reminds me of the Chose your own adventure books I read as a child. There are five different stories that diverge depending on Jane's choice after the very first part. They range from stories with a little mystery to very out there in concept stories.
2. Jane is a quirky and charming character. I feel that she stays true to herself even with the chaos around her in the stories. I love the ideas of her artsy umbrellas and I kind of want one. Although, I think that the fall in love is a bit misleading. There are hints in a couple of the stories of something between her and Ivy, but I never felt that really went very far.
3. For the most part, I thought most of the supporting characters were forgettable. I liked Ivy alright. Really the best supporting character was Jasper, the basset hound. I loved him, surprise, surprise. He was adorable, and was the center of the last story with Jane.
4. While I enjoyed most the stories, the one that centered on Kiran's missing stepmother was just strange and creepy. I am not sure it added anything to the book. I think my favorite stories were the missing children/spy story and the soul dog story. That being said, I don't feel that with the individual stories made for a great novel.
To Read or Not to Read:
This is definitely a take it or leave it book.