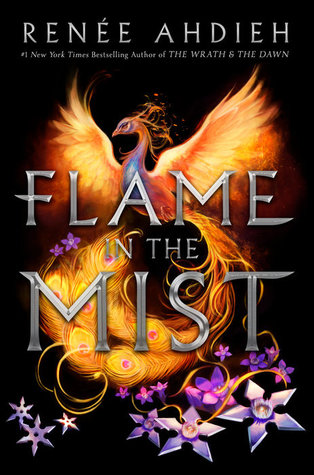 Flame in the Mist is written by Renee Ahdieh and narrated by Nancy Wu and is the first book in the series of the same name.
The only daughter of a prominent samurai, Mariko has always known she'd been raised for one purpose and one purpose only: to marry. Never mind her cunning, which rivals that of her twin brother, Kenshin, or her skills as an accomplished alchemist. Since Mariko was not born a boy, her fate was sealed the moment she drew her first breath.
So, at just seventeen years old, Mariko is sent to the imperial palace to meet her betrothed, a man she did not choose, for the very first time. But the journey is cut short when Mariko's convoy is viciously attacked by the Black Clan, a dangerous group of bandits who've been hired to kill Mariko before she reaches the palace.
The lone survivor, Mariko narrowly escapes to the woods, where she plots her revenge. Dressed as a peasant boy, she sets out to infiltrate the Black Clan and hunt down those responsible for the target on her back. Once she's within their ranks, though, Mariko finds for the first time she's appreciated for her intellect and abilities. She even finds herself falling in love—a love that will force her to question everything she's ever known about her family, her purpose, and her deepest desires.
The Breakdown:
1. I really enjoyed pretty much everything about this book. From the setting, inspired by feudal Japan, to the characters, and the narrator. Wu captures the tone of this book so beautifully in her narration. Ahdieh proves, like in her
The Wrath and the Dawn
series, that she is a master at the hate to love trope.
2. I have to admit, as much as I loved Mariko, sometimes she really lacked in her common sense. She is very smart in the way things work, but is a little clueless in how humans work. Sometimes it is painful to watch her miss what seems so obvious, and for me, that makes her feel more real. She has great strengths, but also some glaring flaws.
3. One of the things I really loved about this book, it was a society where men were the obvious power players, but the women really seemed to control the power from behind closed doors. I, also, very much enjoyed the magical elements to the story. I look forward to learning more about them in the next book.
4. I want to take a minute to talk about Okami. The mysterious member of the Black Clan, and Mariko's love interest. He has so many layers to him, and even at the end of the book, Ahdieh has not reveled all there is to know about it. I loved seeing his confusion over his attraction to Mariko before discovering what she is, and their banter was always entertaining.
5. As for the ending, Ahdieh throws out multiple twist and turns at the end, along with some enlightening reveals. I cannot wait to see where the next book goes.
To Read or Not to Read:
Read