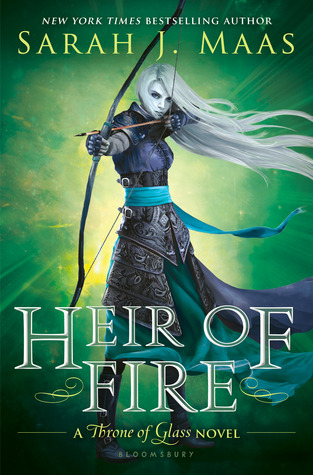 Heir of Fire is the latest Throne of Glass novel by Sarah J. Maas. WARNING: If you have not read Crown of Midnight, do not read this review because there are spoilers for that book.
Lost and broken, Celaena Sardothien's only thought is to avenge the savage death of her dearest friend: as the King of Adarlan's Assassin, she is bound to serve this tyrant, but he will pay for what he did. Any hope of Celaena has of destroying the king lies in the answers to be found in Wendlyn. Sacrificing his future, Chaol, the Captain of the King's Guard, has sent Celaena there to protect her, but her darkest demons lay in the same place. If she can overcome them, she will be Adarlan's biggest threat- and his own toughest enemy.
While Celaena learns of her true destiny, and the eyes of Erilea are on Wendlyn, a brutal and beastly fore is preparing to take to the skies. Will Celaena find the strength not only to win her own battles, but to fight a war that could pit her loyalties to her own people against those she has grown to love?
The Breakdown:
1. The Throne of Glass series is one of my favorite, and Maas did not disappoint with this installment of it. There is lots of excitement and development for the characters in this book. A couple of great twist, and just one more reason not to trust the Fae. Maeve is treacherous Faerie queen, and definitely has hidden agendas where Celaena is concerned.
2. I loved that Celaena made some real character progress in this book. She finally deals with her past, and Maas does a great job of giving the story of her when she was just Princess Aelin, She, also, learns to accept who and what she is, and what she is meant to do.
3. Choal, also, made some great progress in his book. He has been struggling with knowing who and what Celaena is, and now knowing that Dorian has magic, how to protect him. He seems so unsure, at first, where he will stand in the battle. I was excited when he finally drew his line and picked where he stood.
4. My heart breaks a little for Choal and Celaena as a couple. It is obvious that they both care for each other so much, but they don't know how to deal with the secrets and truths revealed between them. It will be interesting to see how things play out once they are reunited.
5. Maas introduce several new characters into this book. Rowan, the Fae warroir prince, sent by Maeve to train Celaena. At first he is so cold and cruel, but as he learns more of Celaena, he really starts to open up. By the end, I simply adored his character, and what he means to Celaena. Manon is a Ironteeth witch who has been recruited by the King of Adarlan to fly wyverns. She is interesting in her fierceness, and cruel way of life, and it will be interesting to see what role she will play in future books and where she will fall once the true battle begins. Then there is Aedion who is a general for the King of Adarlan, but happens to be Aelin's cousin and was to be her sworn sword. He is playing a dangerous game, but I like his attitude and his determination to be by Aelin's side once more.
6. Oh, and the ending has me wanting the next book like yesterday. I can't believe the next book's title has not even been announced. I don't want to wait!
To Read or Not to Read:
Must Read
Currently Reading:
Sirensong
by Jenna Black