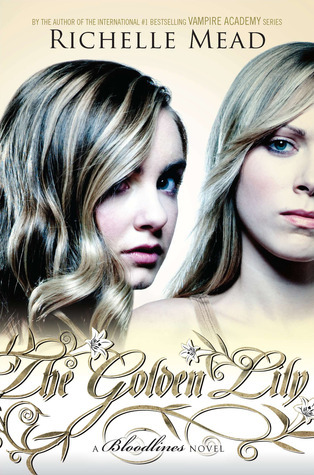 The Golden Lily by Richelle Mead is the second book in her Bloodlines series, which is a spin-off the Vampire Academy series. You can find the review to the first book under United States of YA- California.
Sydney Sage is an Alchemist, one of a group of humans who dabble in magic and serve to bridge the worlds of humans and vampires. They protect vampire secrets- and human lives.
Sydney would love to go to college, but instead, she's been sent into hiding at a posh boarding school in Palm Springs, California- tasked with protecting Moroi princess Jill Dragomir from assassins who what to throw the Moroi court into civil war. Formerly in disgrace, Sydney is now praised for her loyalty and obedience, and held up as the model of an exemplary Alchemist.
But the closer she grows to Jill, Eddie, and especially Adrian, the more she finds herself questioning her age-old Alchemist beliefs, her idea of family, and the sense of what it means to truly belong. Her world becomes even more complicated when her magical experiments show Sydney may hold the key to prevent becoming Strigoi- the fiercest vampires, the ones who don't die. But it's her fear of being just that- special, magical, powerful- that scares her more than anything. Equally daunting is her new romance with Brayden, a cute, brainy guy who seems to be her match in every way. Yet. as perfect as he seems, Sydney finds herself being drawn to someone else- someone forbidden to her.
When a shocking secret threatens to tear the vampire world apart, Sydney's loyalties are suddenly tested more than ever before. She wonders how she's supposed to strike a balance between the principles and dogmas she's been taught, and what her instincts are now telling her.
Should she trust the Alchemists- or her heart?
The Breakdown:
1. After finishing the Vampire Academy series, I wanted more from Mead's supporting characters, like Sydney, and definitely more of Adrian, so the Bloodlines series is a great follow up.
2. Sydney, while not a kick ass fighter like Rose, is a strong heroine in her own way. She is super smart, and a great problem solver. She is wonderfully caring and loyal to those she cares about. Although, her whole body image issues bothers me at times, I still really like her as a character.
3. Love how Adrian has developed as a character in these books so far. While I enjoyed his character in the Vampire Academy books, I feel that he really comes into his own in these books. He has learned to be responsible, and with Sydney, Jill, and Eddie, what a real family is like. Mead has really made him mature as a character.
4. So in the first book, Bloodlines, I thought there was something weird about Trey, and boy was I ever right. It will be interesting to see how his part will play out in the series.
To Read or Not to Read;
Read
Currently Reading:
Ashen Winter
by Mike Mullin