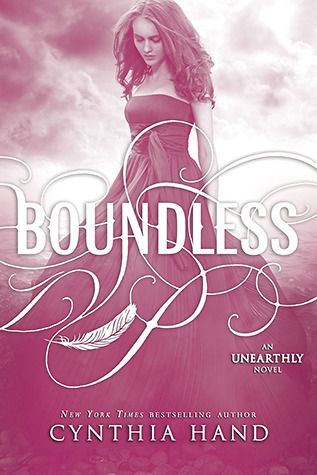 Boundless by Cynthia Hand is the final book in her Unearthly series.
The past few years have held more surprises than part-angel Clara Gardner could ever have anticipated. Yet from the dizzying highs of first love, to the agonizing low of losing someone close to her, the one thing she can no longer deny is that she was never meant to live a normal life.
Since discovering the special role she plays among the other angel-bloods, Clara has been determined to protect Tucker Avery from the evil that follows her... even if it means breaking both their hearts. Leaving town seems like the best option, so she's headed back to California- and so is Christian Prescott, the irresistible boy from the vision that started her on this journey in the first place.
As Clara makes her way in a world that is frighteningly new, she discovers that the fallen angel who attacked her is watching her every move. And he's not the only one... with the battle against the Black Wings looming, Clara knows she must finally fulfill her destiny. But it won't come without sacrifices and betrayal.
In the riveting finale of the Unearthly series, Clara must decide her fate once and for all.
The Breakdown:
1. Wow, Hand does an amazing job with the conclusion to the Unearthly series. She answer my questions and ties up her lose ends very well. She also does a great job of filling out the story line without adding in unnecessary fillers.
2. This book does amazing things for Clara. She really learns to stand on her on, and what she wants to be as both a human and angel. In this book Hand shows that Clara is truly an amazing person, and a super loyal friend. I liked Clara in the first two books, but I think this book is the one that made me fall in love with her.
3. Radiant made me think that Angela's Italian boyfriend would come into play in this book, but I would never have guessed how big a part he plays in the plot. So, you should really read Radiant before reading Boundless.
4. I have to admit, Christian grew on me a little more, still not to the level of Tucker love, but I definitely like him better. I got this feeling he started to feel that Clara was more than his destiny, but also a person he could love. Plus there are some surprising facts we learn about Christian life in it.
To Read or Not to Read:
Must Read
Currently Reading:
School Spirits
by Rachel Hawkins