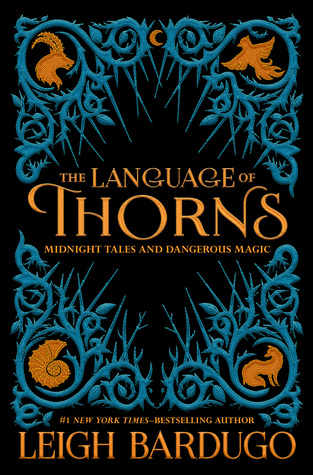 The Language of Thorns: Midnight Tales and Dangerous Magic is by Leigh Bardugo and is a set of Grishaverse short stories.
Love speaks in flowers. Truth requires thorns.
Travel to a world of dark bargains struck by moonlight, of haunted towns and hungry woods, of talking beasts and gingerbread golems, where a young mermaid's voice can summon deadly storms and where a river might do a lovestruck boy's bidding but only for a terrible price.
Inspired by myth, fairy tale, and folklore, #1 New York Times–bestselling author Leigh Bardugo has crafted a deliciously atmospheric collection of short stories filled with betrayals, revenge, sacrifice, and love.
The Breakdown:
1. So this is actually going to be a fairly short review. This book is a collection of stories/legends set in the Grisha-verse. Some of the stories are recognizable in they are tells we have heard a version of before.
2. I think my favorite tale was
The Soldier Prince.
It had deep ties to the Nutcracker story, but it did its own thing. It was a far more interesting progression of the characters that the actually story of the Nutcracker. I also really enjoyed
When Water Sang Fire
, which was basically Ursula from
The Little Mermaid
origin story.
3. One on the best things about this book was the gorgeous artwork that accompanied each story. The artwork starts in the margins of each story, and becomes more elaborate as it progresses and at the end of story has a full spread of the artwork.
To Read or Not to Read:
Read