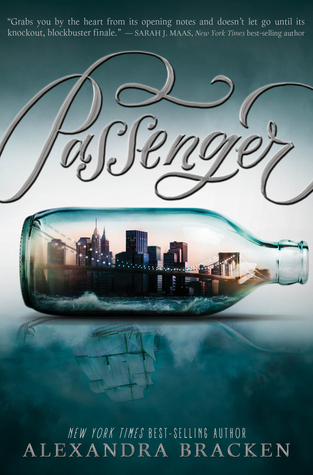 Passenger is written by Alexandra Bracken and narrated by Saskia Maarleveld and is the first book of a duology of the same name.
Passage, n.
i. A brief section of music composed of a series of notes and flourishes.
ii. A journey by water; a voyage.
iii. The transition from one place to another, across space and time.
In one devastating night, violin prodigy Etta Spencer loses everything she knows and loves. Thrust into an unfamiliar world by a stranger with a dangerous agenda, Etta is certain of only one thing: she has traveled not just miles but years from home. And she's inherited a legacy she knows nothing about from a family whose existence she's never heard of. Until now.
Nicholas Carter is content with his life at sea, free from the Ironwoods—a powerful family in the colonies—and the servitude he's known at their hands. But with the arrival of an unusual passenger on his ship comes the insistent pull of the past that he can't escape and the family that won't let him go so easily. Now the Ironwoods are searching for a stolen object of untold value, one they believe only Etta, Nicholas' passenger, can find. In order to protect her, he must ensure she brings it back to them—whether she wants to or not.
Together, Etta and Nicholas embark on a perilous journey across centuries and continents, piecing together clues left behind by the traveler who will do anything to keep the object out of the Ironwoods' grasp. But as they get closer to the truth of their search, and the deadly game the Ironwoods are playing, treacherous forces threaten to separate Etta not only from Nicholas but from her path home... forever.
The Breakdown:
1. Time traveling adventure, I was like, yes please. Bracken did not disappoint me with this novel. There plenty of adventure, from the Revolution to the London Blitz. Plus, as usual, her characters are amazing.
2. Absolutely adore Etta. She is talented and smart. She learns so quickly to adapted to the world she has been thrust into. Most her like she has no clue about Travelers, and has no training, but she takes all in and adjust to her circumstances so quickly. Plus, I adore her interactions with Nicholas.
3. Speaking of Nicholas, he is my new book boyfriend. He is such the gentleman. I am amazed how kind he can be despite how the world has treated him for the most part. I personally love his amazement of the cars and planes when he and Etta arrive in Blitz London. The chemistry between he and Etta is probably some of the best between the pages of a novel.
4. I want to take a minute to talk about the narrated, Saskia Maarleveld. She is amazing at giving each character their own voice. She really brings the characters to life, and she is definitely a narrated you never have to question which character is speaking when she does their voices.
5. Like her
The Darkest Minds
trilogy, Bracken brings in some characters I love to hate. First, there is Sophia who under the guise of helping Etta, basically kidnaps her and forces her to do her families bidding. On the topic of her family, Grandfather, Cyrus Ironwood, is the worst. He expects the world to bend to his will, and will do anything to insure that happens. A man with no morals is super scary to me. Then there is Rose, Etta's mother, I am not sure how I feel about her, yet. She obviously has manipulated Etta in some way, but I can't decided if I hate her for it, yet, but she has definitely done some terrible things to achieve her end goals.
6. The ending was heartbreaking and amazing at the same time. Bracken drops some major secrets on you at the end and really setting up for a possible epic conclusion in the second book. You better believe I downloaded almost as soon as I finished this one to listen to.
To Read or Not to Read:
Must Read