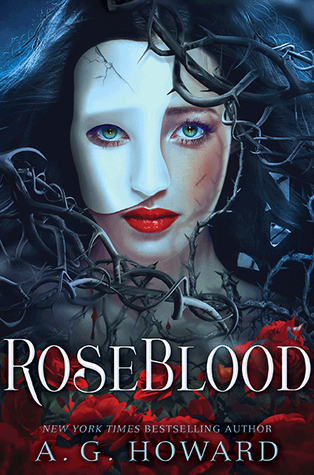 RoseBlood is by A.G. Howard.
In this modern day spin on Leroux's gothic tale of unrequited love turned to madness, seventeen-year-old Rune Germain has a mysterious affliction linked to her operatic talent, and a horrifying mistake she's trying to hide. Hoping creative direction will help her, Rune's mother sends her to a French arts conservatory for her senior year, located in an opera house rumored to have ties to The Phantom of the Opera.
At RoseBlood, Rune secretly befriends the masked Thorn—an elusive violinist who not only guides her musical transformation through dreams that seem more real than reality itself, but somehow knows who she is behind her own masks. As the two discover an otherworldly connection and a soul-deep romance blossoms, Thorn's dark agenda comes to light and he's forced to make a deadly choice: lead Rune to her destruction, or face the wrath of the phantom who has haunted the opera house for a century, and is the only father he's ever known.
The Breakdown:
1. Howard does a re-telling/sequel of
The Phantom of the Opera.
Honestly, I struggled with this book. It was so hard for me to get into this book. The characters were a little flat, and the story was dragging so badly. It did not help that the text of the book was printed in red which is a little harder on my eyes to read. There were a couple of times I seriously considered DNFing this book, but I stuck it out until the end.
2. I just could not connect with the characters of Rune and Thorn. Nothing about them had me identifying with them. I can't say that I disliked them, but neither can I say that I liked them. They were just meh, for me. The best character is the book was the cat Diablo.
3. Then there was Howard's explaination of the Phantom, Rune, and Thorn's powers/quirks. It just had a forced/ easy way out feeling to it.
4. I will admit, the last fourth of the book was not horrible. The ending was a good one for the story, and so glad that this a stand alone novel.
To Read or Not to Read:
Don't waste your time.