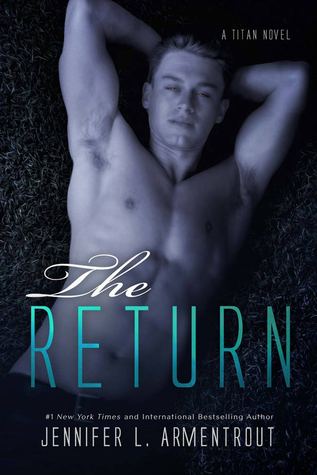 The Return by Jennifer L. Armentrout is the first book of her Titan series.
The Fates are cackling their bony asses off...
It's been a year since Seth made the deal with the gods that pledges his life to them. And so far, the jobs they've given him have been violent and bloody- which is kind of all right with him. But now Apollo had something else in mind for Seth. He's got to play protector while keeping his hands and fingers off, and for someone who really has a problem with restraint, this new assignment might be most challenging yet.
Josie has not idea what this crazy hot guy's deal might be, but it's a good bet that his arrival means the new life she started after leaving home is about to be thrown into an Olympian-sized blender turned up to puree. Either Josie is going insane or a nightmare straight out of ancient myth is gunning for her.
But it might be the unlikely attraction simmering between her and the golden-eyed, secret-keeping Seth that may prove to be the most dangerous thing of all.
Because history has once again been flipped to repeat.
The Breakdown:
1.
The Return
is the start to JLA's follow up series to the Covenant series, so if you haven't read that whole series, yet, there will be spoilers in this review. And now on to the review. I was excited to read this series, for Seth to really get this story out there. In the Covenant, he mostly comes off as an arrogant jerk, but there are moments JLA shows there is more to him, and this book really delves more into that aspect of him.
2. I kind of love Josie. She does not take Seth crap, and sees through the mask he puts on for the world. And considering the world she has been thrust into, I would say she is taking it remarkably well. She is strong, and smart, but best of all she is caring, and helps to teach Seth that is a sum of everything he has done, not just the bad stuff.
3. I love that this book shows Seth's vulnerable side. I like seeing his regrets, and how he is trying to make amends the best way he knows how from his actions while following Ares. I also liked learning more about his childhood, and how that made him easier to manipulate into Ares cause. But most of all, I liked see him truly caring for another person, and not because he needed her, like with Alex, but because she saw him for the real Seth.
4. I was super excited to see some of my favorites pop in this book, including Luke and Deacon, and Solos. Luke and Deacon are always entertaining, and I kind of want a love interest for Solos. Also liked that this series is going to address the consequences of having let the titan Perses out to help defeat Ares in the last series. Can't wait to see where JLA takes the series.
To Read or Not Read:
Read