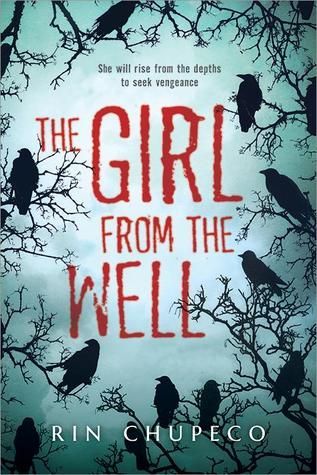 The Girl from the Well is by debut author Rin Chupeco.
A dead girl walks the streets.
She hunts murderers. Child killers, much like the man who threw her body down a well three hundred years ago.
And when a strange boy bearing stranger tattoos moves into the neighborhood so, she discovers, does something else. And soon both will be drawn into the world of eerie doll rituals and dark Shinto exorcisms that will take them from American suburbia to the remote valleys and shrines of Aomori, Japan.
Because the boy has a terrifying secret- one that would just kill to get out.
The Breakdown:
1. Chupeco creates an interesting mix of horror and Japanese culture. I think fans of The Ring and The Grudge will really enjoy this book.
2. I had a little trouble getting into the way the book is written from the perspective of Okiku, the ghost. It is very voyeuristic for the most part since she rarely interacts with the other characters, just observes.
3. I think that description of the book lives a crucial part out. That Turk, the tattoo boy, cousin Callie plays an enormous role in this book. She cares so much for her cousin. She will do anything so save, and puts her life in danger more than once to help him. I feel she is the big reason this book really worked.
4. I did love the descriptions of Japan. It really makes me want to visit there, and not just Tokyo.
To Read or Not to Read:
If you are a horror fan, this book is for you.
Currently Reading:
Fast Track
by Julie Garwood