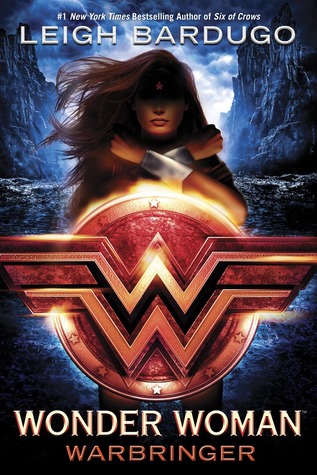 Wonder Woman: Warbringer by Leigh Bardugo is the first of the DC Icons series.
Daughter of immortals.
Princess Diana longs to prove herself to her legendary warrior sisters. But when the opportunity finally comes, she throws away her chance at glory and breaks Amazon law—risking exile—to save a mortal. Diana will soon learn that she has rescued no ordinary girl, and that with this single brave act, she may have doomed the world.
Daughter of death.
Alia Keralis just wanted to escape her overprotective brother with a semester at sea. She doesn't know she is being hunted by people who think her very existence could spark a world war. When a bomb detonates aboard her ship, Alia is rescued by a mysterious girl of extraordinary strength and forced to confront a horrible truth: Alia is a Warbringer—a direct descendant of the infamous Helen of Troy, fated to bring about an age of bloodshed and misery.
Together.
Two girls will face an army of enemies—mortal and divine—determined to either destroy or possess the Warbringer. Tested beyond the bounds of their abilities, Diana and Alia must find a way to unleash hidden strengths and forge an unlikely alliance. Because if they have any hope of saving both their worlds, they will have to stand side by side against the tide of war.
The Breakdown:
1. DC Icons is a genius move by DC. It is a series written by different best-selling YA novelist, and they kick it off with a bang with Leigh Bardugo doing Wonder Woman. I love Bardugo's writing, and I love what she has done for Wonder Woman. It is amazing how she takes a well established character and makes it her own, and still keeps with her true to the ideas from the comics. I really adore what she has done with how Amazons are created and the legend of Helen of Troy.
2. I adore the fact that Bardugo made this story more focused on friendship and sisterhood between the characters. Yes, there were some romantic undertones at times, but that was not the focus of the story. I really enjoyed watching Diana and Alia build a friendship.
3. Speaking of Diana and Alia, I love that they are both strong female characters. Diana in both the traditional sense of the word and she also has a strong heart. Her determination to both save Alia and the world is amazing. The Alias is super smart, loyal, and brave. She wants to do what it takes to prevent the wars she would cause as the Warbringer. The courage it takes her to face this, and accepted it makes her more amazing than Diana in many ways.
4. Holy Cow! The twist that Bardugo throws at the end was amazing and I so did not see that coming. Made me love the story even more. I am excited to see where the other authors take the next stories in this universe.
To Read or Not to Read:
Must Read