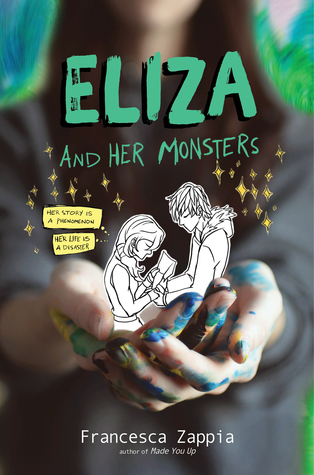 Eliza and Her Monsters is by Francesca Zappia.
Her story is a phenomenon. Her life is a disaster.
In the real world, Eliza Mirk is shy, weird, and friendless. Online, she's LadyConstellation, the anonymous creator of the wildly popular webcomic Monstrous Sea. Eliza can't imagine enjoying the real world as much as she loves the online one, and she has no desire to try.
Then Wallace Warland, Monstrous Sea's biggest fanfiction writer, transfers to her school. Wallace thinks Eliza is just another fan, and as he draws her out of her shell, she begins to wonder if a life offline might be worthwhile.
But when Eliza's secret is accidentally shared with the world, everything she's built—her story, her relationship with Wallace, and even her sanity—begins to fall apart.
The Breakdown:
1. I really enjoyed this book. I loved both Eliza's story and the glimpses into the world she created with
Monstrous Sea
. Zappia did a fantastic job of really capturing a extreme introvert with Eliza, and her struggles with being social. I loved reading her story.
2. While I am not nearly as introverted as Eliza, I could identify with her struggles to socialize. I felt her character really helps to bring awareness to struggles with anxiety and depression.
3. I liked Wallace, who struggles with anxiety and issues himself. I like that he and Eliza just seem to get each other. I am disappointed in his reaction to finding out Eliza's secret.
4. One of the most amazing scenes of the book is when Eliza's brothers, Church and Sully, confront their parents on what revealing her secret did to her. I adored them in that moment. They seemed like high energy middle school kids who had little to do with Eliza until that moment. It showed Eliza how much they cared for her and how much they wanted to be apart of her life.
5. I have to say, I really want a
Monstrous Sea
book/graphic novel. I loved the little snippets of it that Zappia gives during the book. Plus, if you check out her wattpad, she gives teasers to more. Hinting there could be a full length novel if enough interest. Check it out here: https://www.wattpad.com/story/115593723-monstrous-sea-teaser
To Read or Not to Read:
Must Read