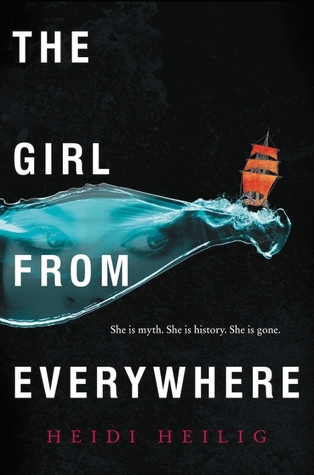 The Girl From Everywhere is by debut author Heidi Helig and is the first of the series of the same name.
Nix has spent her entire life aboard her father's ship, sailing across the centuries, across the world, across myth and imagination.
As long as her father has a map for it, he can sail to anytime, any place, real or imagined: nineteenth-century China, the land from One Thousand and One Nights, a mythic version of Africa. Along the way they have found crewmates and friends, and even a disarming thief who could come to mean much more to Nix.
But the end to it all looms closer every day.
Her father is obsessed with obtaining the one map, 1868 Honolulu, that could take him back to hist lost love, Nix's mother. Even thought getting it- and going there- could erase Nix's very existence.
For the first time, Nix is entering unknown waters.
She could find herself, find her family, find her own fantastical ability, her own epic love.
Or she could disappear.
The Breakdown:
1. Time travel, Hawaii, and mythical creatures come to life, all these things come together to make Helig's wonderful adventure in this book. I loved the rules that Helig has created for time travel, and how exactly the time travel occurs. I also like the mystery of the potential paradox, if Nix's mother is saved, what happens to her life.
2. I loved Nix's character. She is smart and resourceful, and loves to learn more. I find it interesting how she handles the situation her father makes. On one hand she wants to help him and make him happy. On the other is the fear that if he gets want he wants that she will never have this life if she exist at all.
3. Nix's potential love interests make for good foils of each other. First Kashmir, who is thief raised on the streets of a mythical area of the Arabian peninsula. He is Nix's best friend, but there is definitely some strong chemistry there. He seems more in tune with it than she is. Then there is Blake Hart, who is the son of an American living in Hawaii. He is very Victorian, after all it is 1888 to him.
4. I love how well Helig is able to blend real history with myths and legends. Treason, secrets, heist and ghost warrior all make for a very exciting read. I cannot wait to see where she takes the series.
To Read or Not to Read:
Read