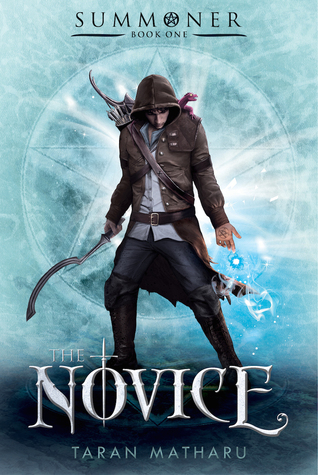 Debut author Taran Matharu's The Novice is the first book of his Summoner series.
When blacksmith apprentice Fletcher discovers that he has the ability to summon demons from another world, he travels to Adept Military Academy. There the gifted are trained in the art of summoning. Fletcher is put through grueling training as a battlemage to fight in the Hominum Empire's war against orcs. He must treat carefully while training alongside children of powerful nobles. The power hungry, those seeking alliances, and the fear of betrayal surround him. Fletcher finds himself caught in the middle of powerful forces, with only his demon Ignatius for help.
As the pieces on the board maneuver for supremacy, Fletcher must decide where his loyalties lie. The fate of an empire is in his hands.
The Breakdown:
1. I really liked the concept behind Matharu story, but in someways if fell a little flat for me. Matharu spends a lot of the first half of the book setting up the background and history of Hominum. I feel like the way he did it that showed that he was a new author. That being said, I do think that the overall story was good, and the last half of the book was much better than the first half.
2. I did think that Matharu did a good job of developing Fletcher as a character. He is smart, inquisitive, and kind, but does have flaws, like being a little bit of a hothead. Matharu does use his questions at times to have other characters tell the history of their people, like the dwarves, and the laws for bastard children of nobles.
3. Matharu has definitely set up some interesting political situations with the dwarves and the elves, and things that some of the nobles are plotting. There is a lot of potential in this series in the books to come. Plus he ends this book with quite the cliff hanger, so it will interesting to see where the next book goes, and how these events effect his characters.
To Read or Not to Read:
Read