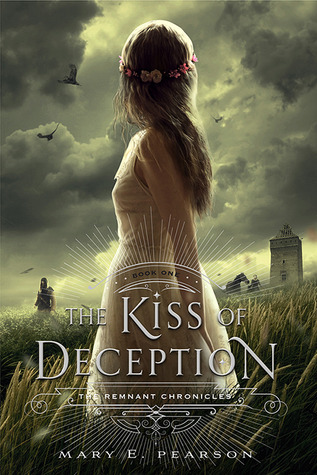 Happy New Year! And the first book of the new year is Mary E. Pearson's The Kiss of Deception which is the first book in The Remnant Chronicles.
A princess must find her place in a reborn world.
She flees on her wedding day.
She steals ancient documents from the Chancellor's secret collection.
She is pursued by bounty hunters sent by her own father.
She is Princess Lia, seventeen, First Daughter of the House of Morrighan.
The Kingdom of Morrighan is steeped in tradition and the stories of bygone world, but some traditions Lia can't abide. Like having to marry someone she's never met to secure a political alliance.
Fed up and ready for a new life, Lia flees to distant village on the morning of her wedding. She settles in among the common folk, intrigued when two mysterious and handsome strangers arrive- and unaware that one is the jilted prince and the other an assassin sent to kill her. Deceptions swirl and Lia finds herself on the brink of unlocking perilous secrets- secrets that may unravel her world- even as she feels herself falling in love.
The Breakdown:
1. Pearson weaves a intriguing tale with first loves, political agendas, and legends of old coming to life. She does an excellent job of keeping me guessing who is who, and what their plans are for Lia. It is amazing how well Pearson does at keeping the identities of the prince and the assassin secret.
2. I really loved Lia. She was vibrant and fun. She has so much love to give, and it is a little sad that her parents never took advantage of that. And those she loves, she is fiercely loyal to. I adore the way she protected Pauline, and how close her was with her brother.
3. Part of my enjoyment in reading the book was the guessing game for over half the book on who who was the prince and who was the assassin of Kaden and Rafe. As Lia falls for one of them, I was kept on edge trying to guess why her love was following her. Pearson was masterful at keeping the identities hidden until the perfect moment.
4. I, also, loved that there is more going on in the story than Lia even guesses. With the book she has stolen, she has others in her father's cabinet willing to kill to get it back. Plus there are secrets to be learned from the book, and Lia has so much more to discover about herself. I am excited to see where Pearson takes this series.
To Read or Not to Read:
Must Read